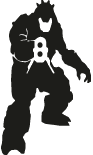 HBO Mythic Movie Contest
halo.bungie.org has teamed up with Bungie Studios to give away some awesome goodies... and all you need to do is make us a movie.
The Contest
We're looking for Mythic Map trailers - short videos that show off the coolness of the Mythic Map Pack. Content is up to you - the biggest limitation is that these movies must be less than 90 seconds long. Winners (and the number of winners will depend on the number of cool entries, but it WILL be plural) get all sorts of goodies: Recon armor, Bungie PRO (for more storage space on your Bungie.net File Share), maybe even Mythic Map codes for your friends.
The winning videos will eventually be hosted on YouTube, on a Bungie-controlled channel - so your work will be seen by thousands. For now, though, you'll need to submit the film to us, via the submission page (more on that below), and you'll need to make sure you're following all the rules.
Submission Requirements:
Videos must be submitted in .WMV, .MP4, or .MOV formats - all others will be rejected. (Sorry - we need to ensure we can see what you're sending us. No, we're not willing to make an exception for you.)
Videos are not to exceed 90 seconds in length. (We're serious about this. You send us a 91 second movie, we're disqualifying it. You're not sure if your timer is exact, play on the safe side - don't go above 89 seconds.)
Do not include visual credits. Really. We're going to have enough to muddle through - don't make it worse by tacking on your credits. (We will give the winners a chance to resubmit, with credits, before public hosting - but if you send us that version during the submission period, you're going to be disqualified.)
Submission Deadline: Monday, March 30, 2009 at 12:01 AM PDT.
Judging
Final valid submissions will first be reviewed and evaluated by members of the Halo Community (including Bungie employees) via an anonymous peer-review system on halo.bungie.org. Judging will begin on Monday, March 30, 2009 and final winners will be announced in the Bungie Weekly Update on April 3. Prizes will be delivered electronically to winners within a few days of the result announcement.
The Rules
Please read these rules carefully. The staff at halo.bungie.org reserves the right to make final decisions regarding any submissions or contestants at their sole discretion.
This contest is open to anyone and everyone in the Halo Community, anywhere in the world.


Prizes can only be awarded to one individual per entry. (In other words, all entries must be assigned to one single person.)


You are only eligible to win one prize per person. Because of this, only one submission is accepted PER PERSON. (There is no advantage to submitting earlier rather than later, and once you've submitted, you cannot submit again - so consider holding off until you're sure you've done the best job you can.)


Material that has been publicly released before March 20, 2009 will be discarded; this means you cannot submit content you've created in the past, regardless of whether it was part of another contest or not, and it means that if you can't keep yourself from posting your entry on a forum somewhere to let your friends see it, you will run the risk of having it disqualified (if someone sees it and tells us about it).


Stealing other community content and submitting it as your own is grounds for immediate disqualification.


Any submissions that are not within the required specification for file type will not be considered.


Any submissions received after the deadline will not be considered.


If you have questions about what's allowed or not allowed that aren't answered here, please mail us.